Our Expertise
WE ARE EXPERTS IN DESIGN AND COMMUNICATIONS – DIGITAL AND PRINT. MARKETING STUFF. CHECK. TECHNOLOGY STUFF. CHECK. CORPORATE STUFF. CHECK.

Science-based projects feed our minds. Our specialty is helping you achieve success with science-based products and companies. Biotechnology, healthcare, diagnostics, life sciences, or clean tech, we take the complex and make it simple. We take the simple and make it compelling.
Compassion-led projects feed our souls. We focus on compassion projects that better our world through service to our shared communities. There is a special place in our heart for organizations that have a commitment and passion to help others. We consider it an honor to join with you.
Business-centric projects feed our world. We believe that good business fuels life by providing a good income and good jobs. We would love the opportunity to work on your consumer or business-to-business projects.  We have helped corporations, small businesses and start-ups achieve their dreams. Why not you?
There is no life I know to compare with pure imagination,
Living there you'll be free if you truly wish to be.
– Willy Wonka
What We Do
MICHAEL KULWIEC DESIGNLAB PRODUCES A WIDE VARIETY OF MARKETING & COMMUNICATIONS TOOLS. NOT MUCH WE DON'T DO. BUT WE DON'T DO PEST CONTROL. UNLESS YOU MEAN ELIMINATING YOUR COMPETITION.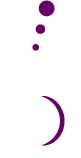 Ready. Set. Go!
THE LABORATORY OF IMAGINATION IS READY TO TELL YOUR STORY WITH CLEVER DESIGN