Creating Identity for Sustainable Solutions
TWO POWERFUL EUROPEAN COMPANIES JOIN FORCES TO DEVELOP AND PRODUCE A NOVEL GREEN CHEMICAL BUILDING BLOCK TO IMPROVE THE ENVIRONMENT
Case Study

The assignment was to create a new company identity and product branding for a joint venture between two powerful European-based companies: Royal DSM, the global Life Sciences and Materials Sciences company, and Roquette Frères, the global starch and starch-derivatives company.
The goal of this new company was to make sustainable products a reality by commercializing succinic acid, a green chemical building block. Their new product, sustainable succinic acid, is produced from renewable, plant-based resources, to enable their customers to improve their environmental footprint by using a bio-based chemical building block for a broad range of applications, from packaging to footwear.
COMPANY NAME SOLUTION

Reverdia – re (a Latin prefix meaning again, renew) + verdia (Latin for the process of spring ver; Romance languages for "green")/veri (Latin for truth,reality) + ia  (a noun suffix)
PRODUCT NAME SOLUTION

Biosuccinium – Bio (biologically-based) + succinic (chemical name, containing, or derived from succinic acid) + ium (Latin suffix used to form names of chemical elements)
LOGO SOLUTION
The logo was created from a green cube which represented chemical building blocks from agricultural feedstock. The square was simplified into two dimensions and multiplied. These squares were then transformed into a circular, swirling motion to convey the concept of renewability, sustainability and life cycle analysis while recalling the universal recycling iconography.
The perspective of the logo design element was altered to convey the idea of "growth".  This was to reflect the plant-based origin of the company's products and to convey a stronger sense of motion.
Deliverables

Michael Kulwiec DesignLab developed a comprehensive suite of deliverables to help Reverdia become the leader in making bio-based products possible in the chemicals industry.
Corporate collateral – business cards, letterhead
Corporate Storytelling with the Stars
mkulwiec
2017-06-05T21:42:49+00:00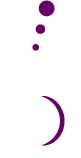 Ready. Set. Go!
THE LABORATORY OF IMAGINATION IS READY TO TELL YOUR STORY WITH CLEVER DESIGN